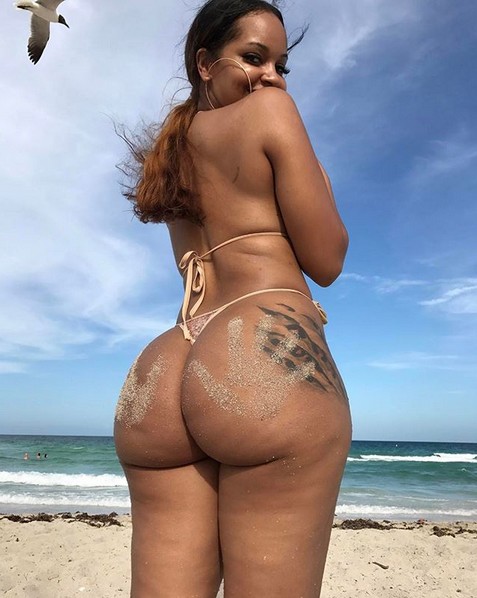 Phfame - Thick Instagram Model

Phfame is sexy Instagram model with over 2 million followers. Phfame is the type of model who actually likes to have fun and give her followers what they want to see. Which is the best sexy pics she can take, and some quality looks at her beautiful butt. And she always does it with a smile on her face. Phfame definitely qualifies as a thick instagram model that you should be following. We don't know too much about Phfame other then that she lives in the USA, possibly in NYC and has a perfect body and a very soft all natural ass. Seems she also does strip club appearance since V Live in Atlanta has promoted her as beng live on stage this week! I have to hit her up and see if we can get her in for a bikini or implied nude video shoot. After seeing her bodypaint video, which is included on this list, it may be worth the efforts. Follow her now at @Phfame.
Phfame Top 5 Videos - You Tube

The best videos from sexy Instagram model Phfame currently on YouTube.
#1) 865,000 Views - Phfame gets bodypainted for Marathon Clothing, a very sexy video.

#2) 44,000 Views - Phfame video compilation.

#3) 42,000 Views - Phfame video and pic compilation.

#4) 38,000 Views - Phfame video compilation.

#5) 24,000 Views - Phfame HQ video compilation.

Phfame Sexiest Videos - Instagram

The best videos from sexy Instagram model Phfame currently available on her Instagram.
#1) Phfame looks great in jeans.

#2) Phfame may have the best walk in the game.

#3) Phfame plus bodypaint equals amazing.

#4) Phfame shows us her ass from the side.

#5) Phfame on the terrace putting on a show.

#6) Phfame proves she can twerk that ass. Was there any doubts??

#7) Phfame shows us more skin than usual.

#8) More walking from Phfame.

#9) Phfame plus water is a must see event.

#10) Phfame spins so we can see what she is working with.

#11) Phfame in a sexy gold bikini.

#12) Love it when any model does this and Phfame does it right.

#13) Phfame at some resort hotel having fun.

#14) Phfame's ass looks perfect from this angle.

#15) When Phfame spins to the back angle you will be pleased.

Read more »